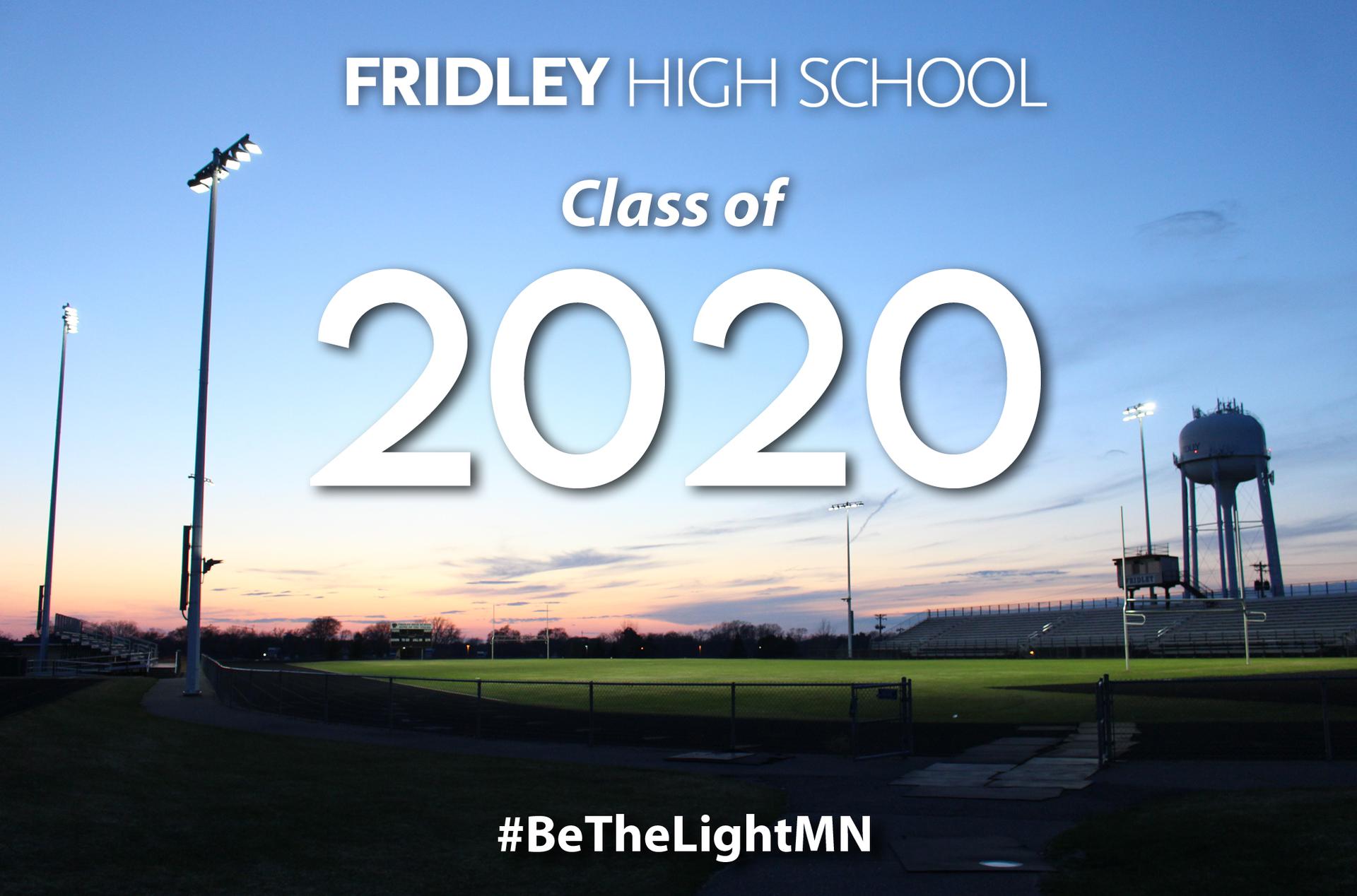 We hope that you had a successful Week 2 of Distance Learning! Please take the time to enjoy the long weekend. We hope that you and your family are staying healthy and safe as we continue to do our part in keeping our neighborhoods and communities safe by practicing social distancing.
Honoring the Class of 2020 - #BeTheLightMN
As part of the #BeTheLightMN initiative that honors students across the state, Fridley Public Schools will turn on its high school stadium lights at Bob O'Neill field, at 8:00 PM to honor all students who are helping keep each other and our community healthy by following our governor's social distance directive. To honor the Class of 2020, the lights will stay on for 20 minutes and 20 seconds. The lights have been shining through this week and we will continue to honor our seniors every Monday night for the duration of the school closure.
If you choose to see the lights in person, please follow the social distancing requirements. We ask that you stay in your car, maintain a 6 feet distance from other people, and leave as soon as the lights are dimmed to avoid gathering.
There are no words to describe how much Fridley staff misses its students. The lights are to remind all of us that we all can be a light for each other and for someone else. So, keep it up! Be The Light that shines hope, compassion, kindness, caring, and inspiration. And to the Fridley High School Class of 2020, our lights shine for you - GO TIGERS!

Please enjoy the video below to celebrate our students and the Class of 2020!
Click below to watch video: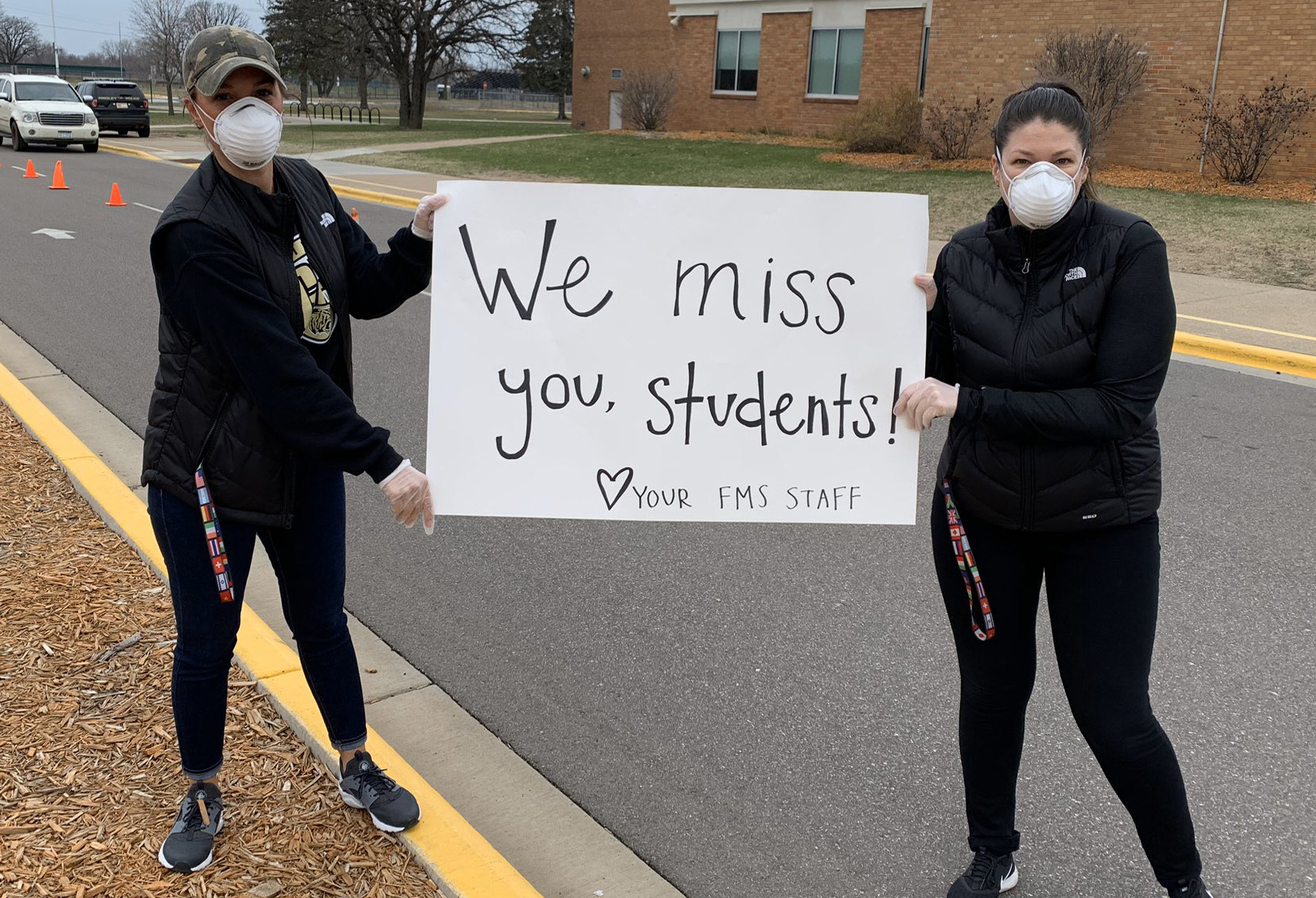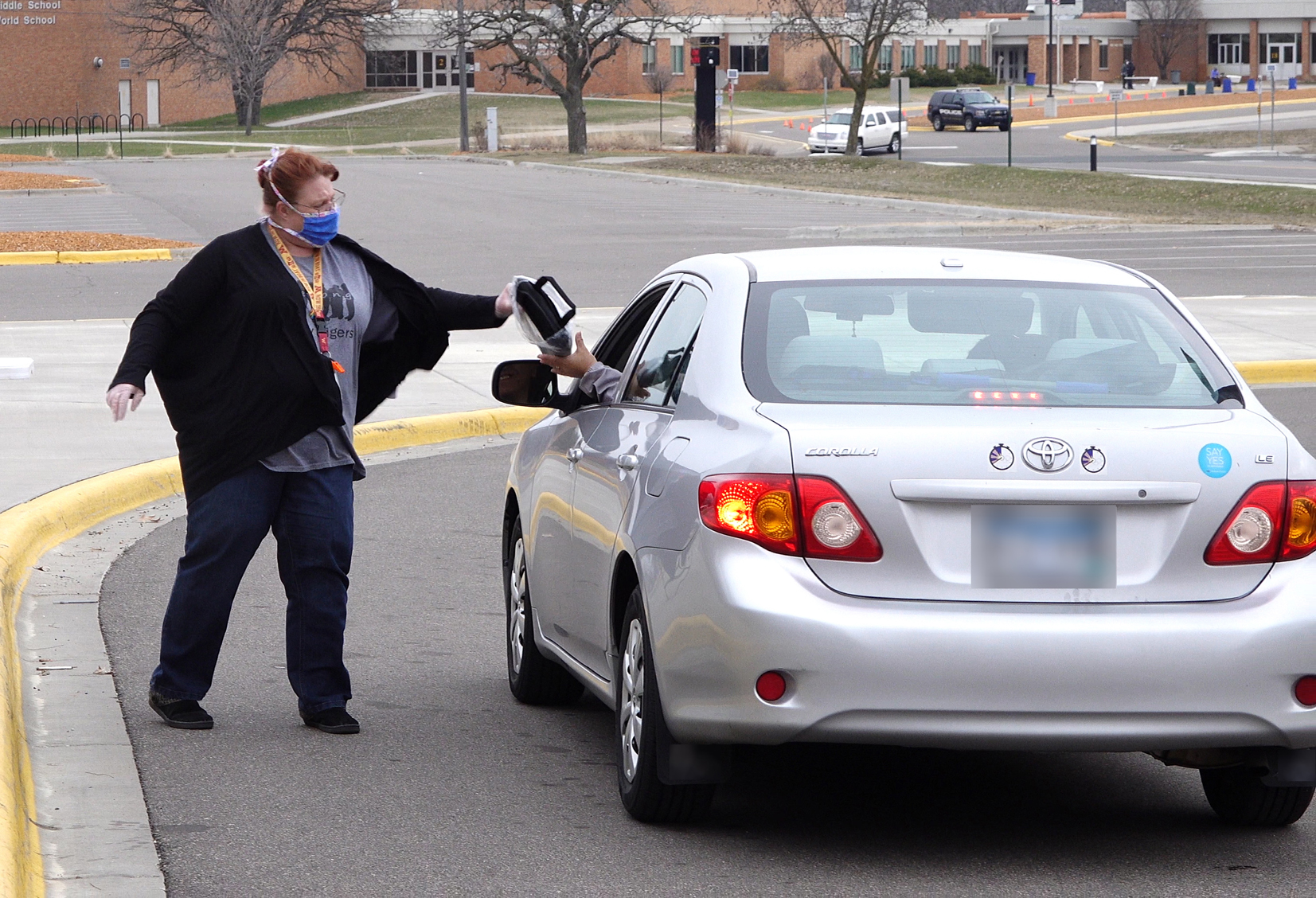 Fridley Public Schools distributes Chromebooks to families

Schools across the district began their distribution of Chromebooks to families who are in need of a device for Distance Learning. Huge THANK YOU to Fridley Public Schools' district technology department and all the staff members who organized our district's device distribution drive. Thanks to their hard work, many more of our families now have access to devices!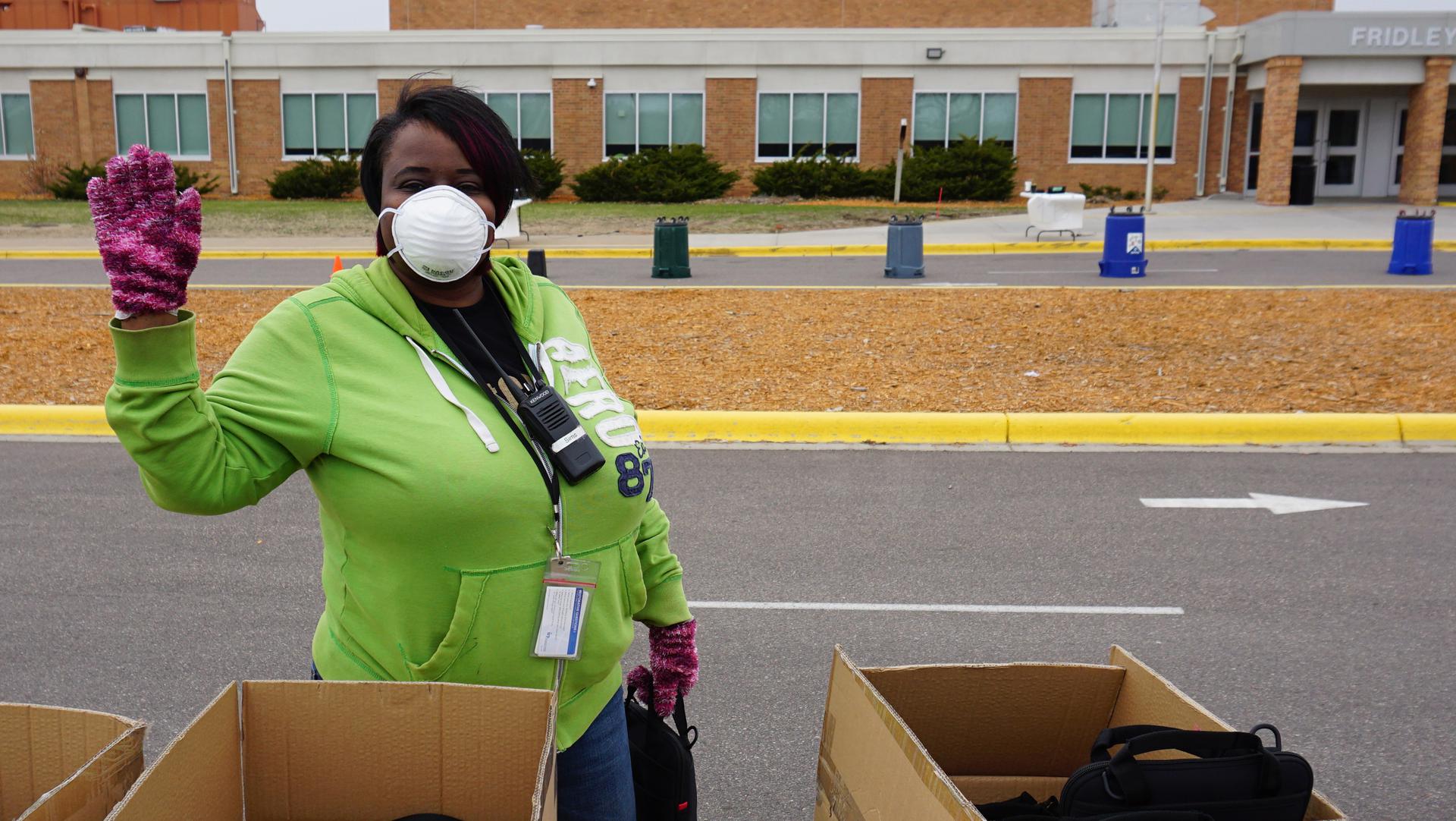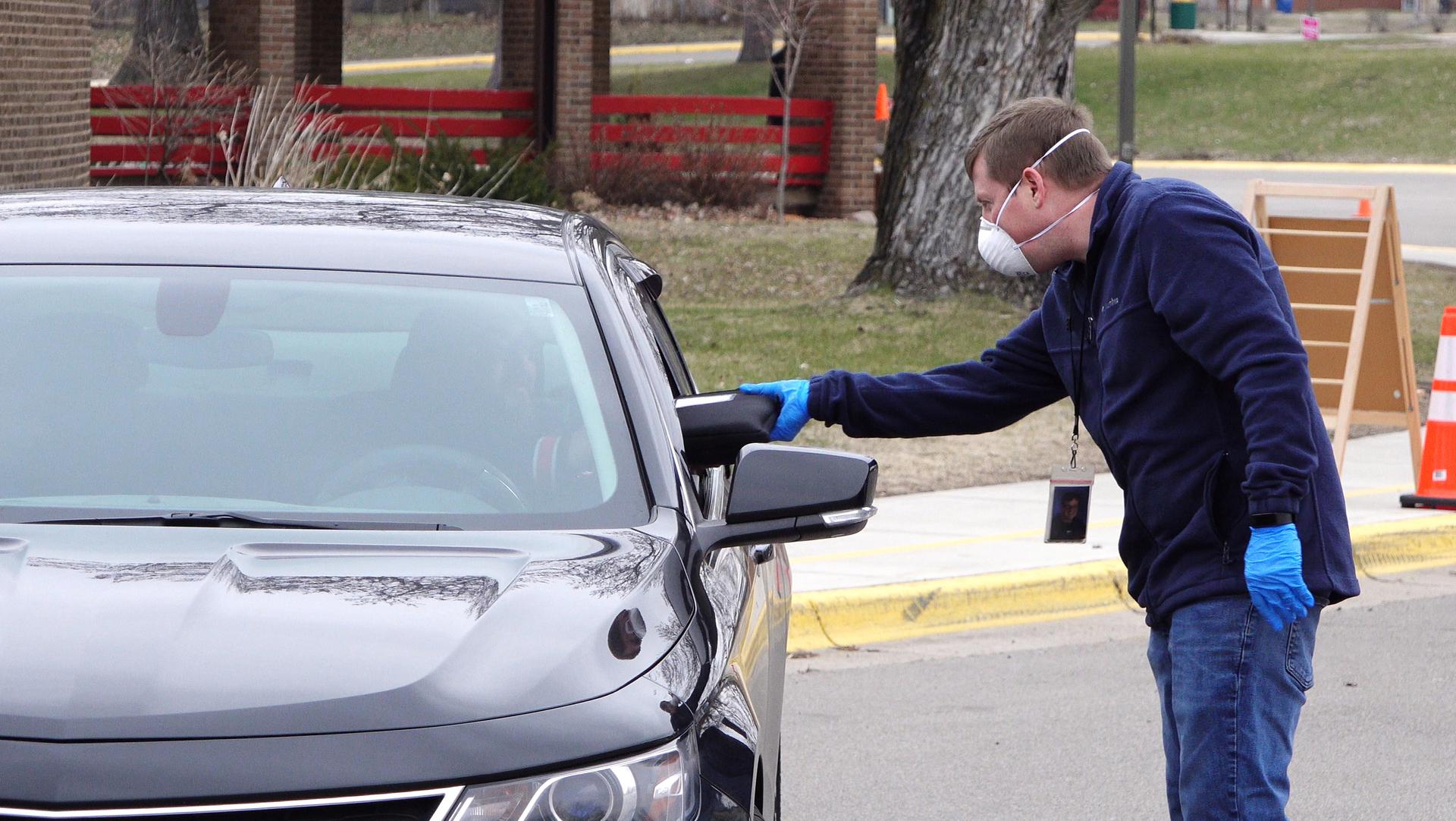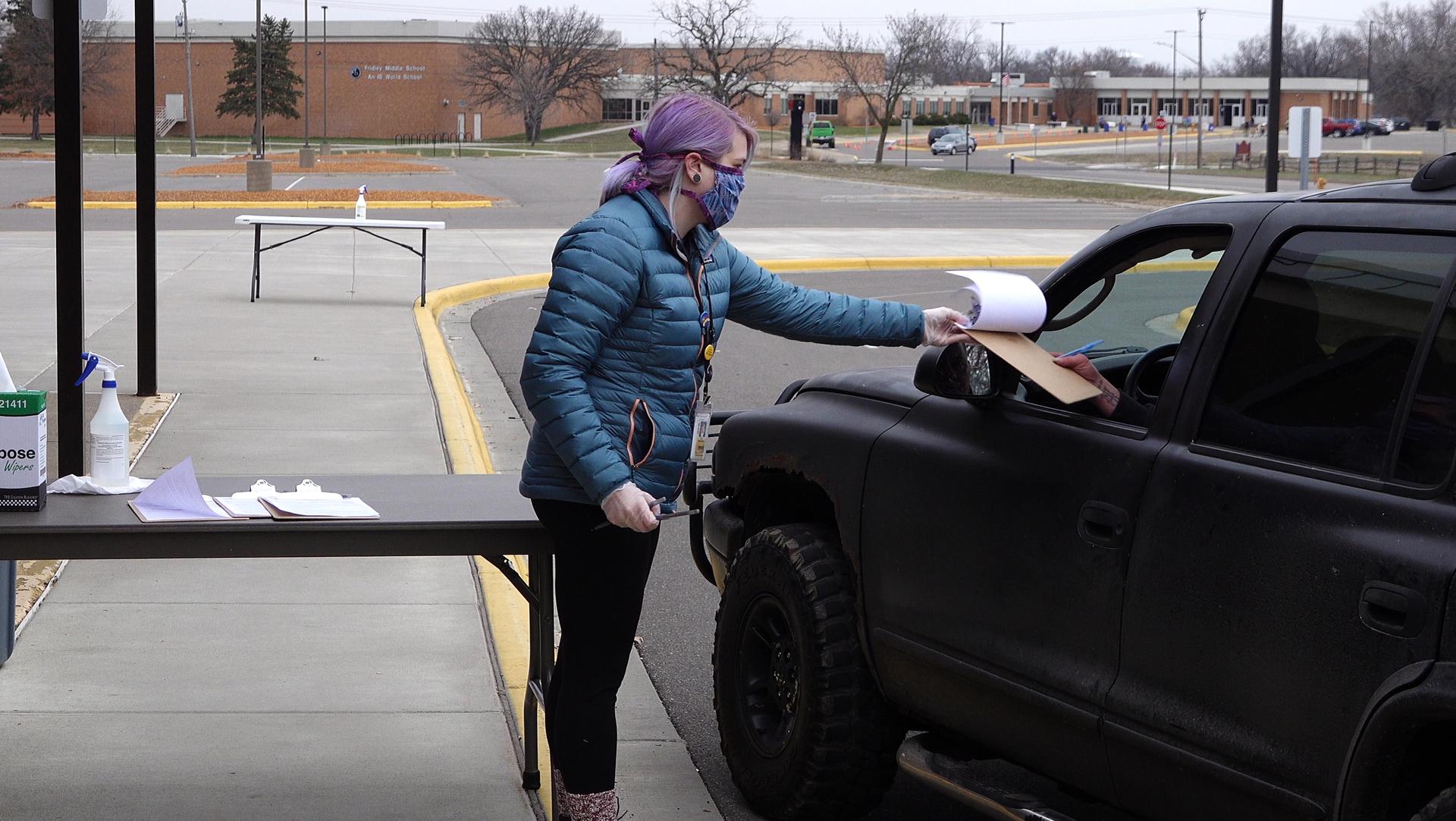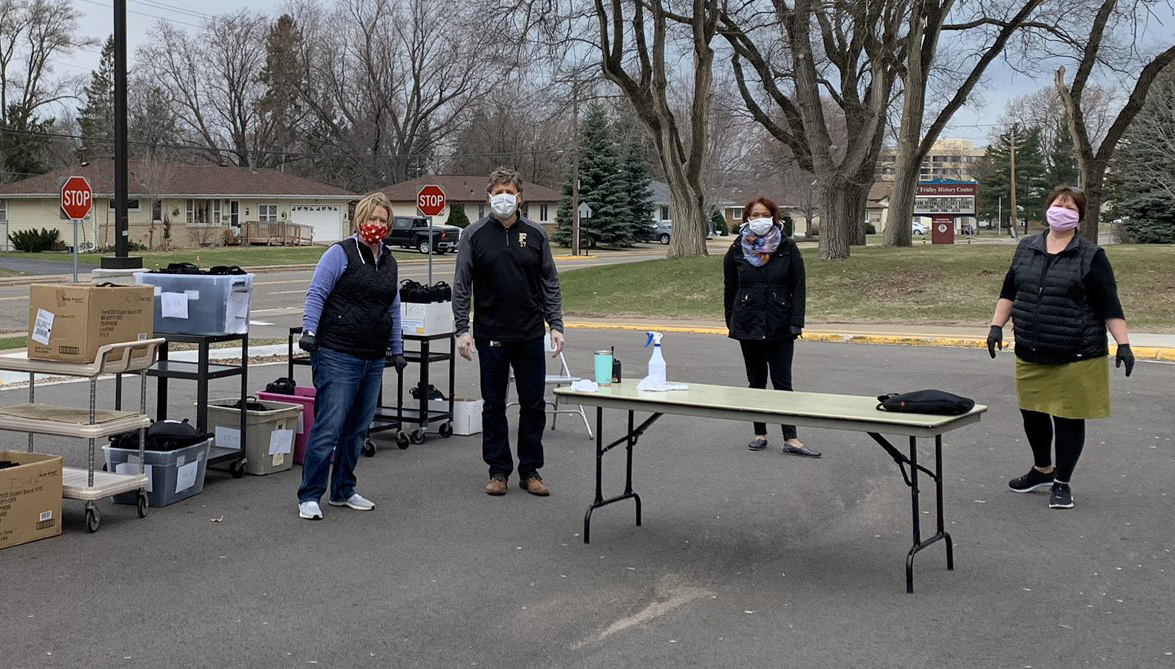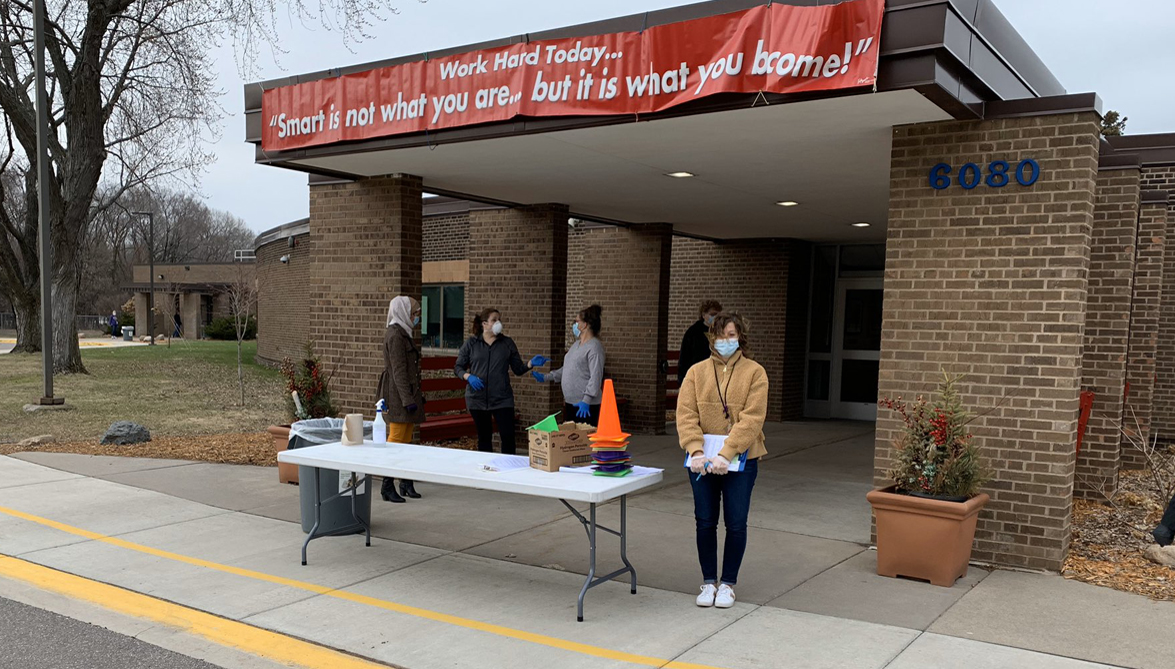 For families who are interested in purchasing their own devices for their children, there is an option to purchase computers through the Fridley Public Schools FireFly Advantage purchase program. Computers and laptops are available at discounted prices negotiated by the district - click here to learn more about FireFly Advantage.

Did you receive your school newsletter?
Each of our schools emailed a newsletter to their families. Click the buttons below to view each school's April Newsletter! We also invite and encourage you to browse through the other schools newsletters for more information about our schools!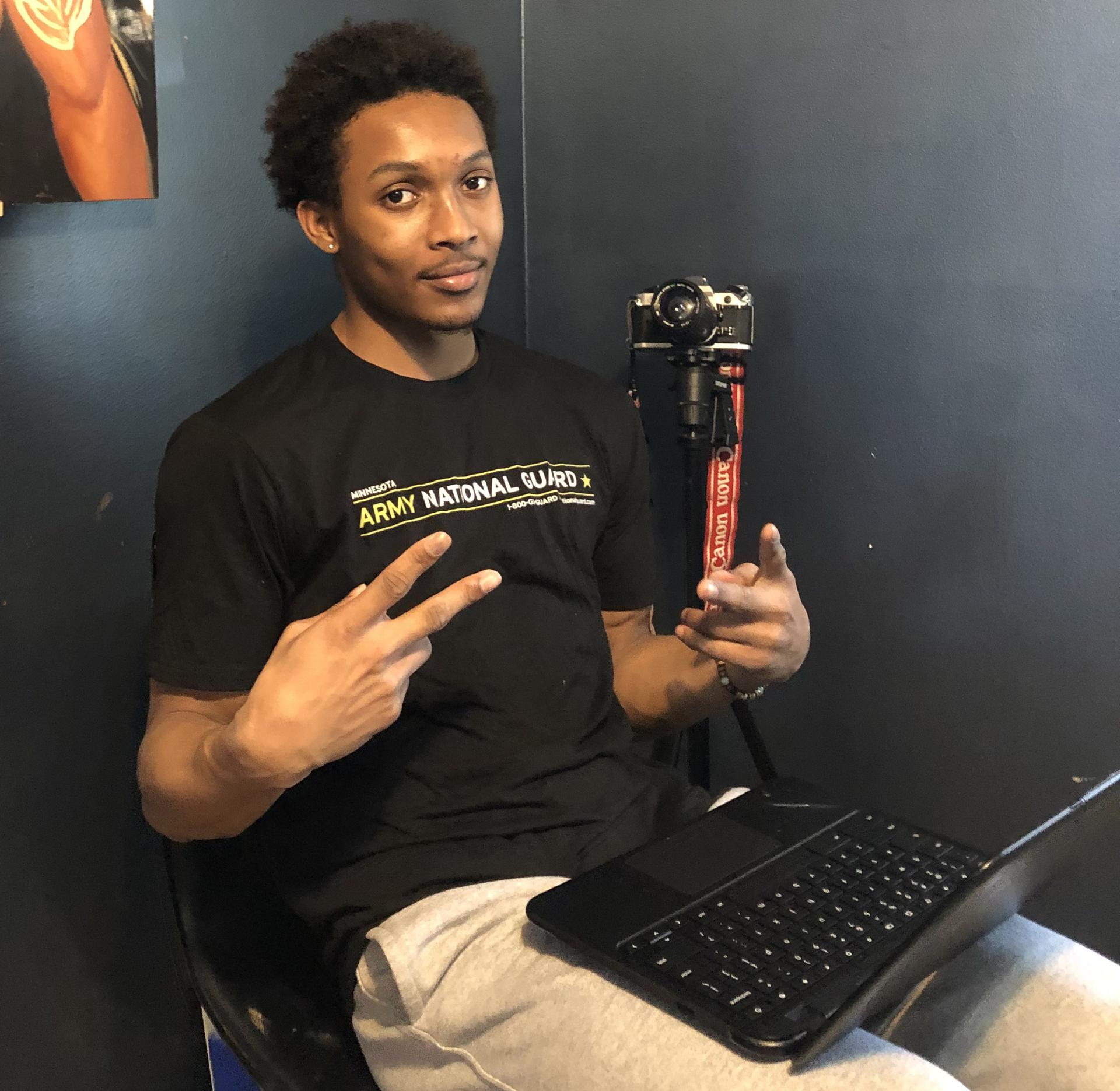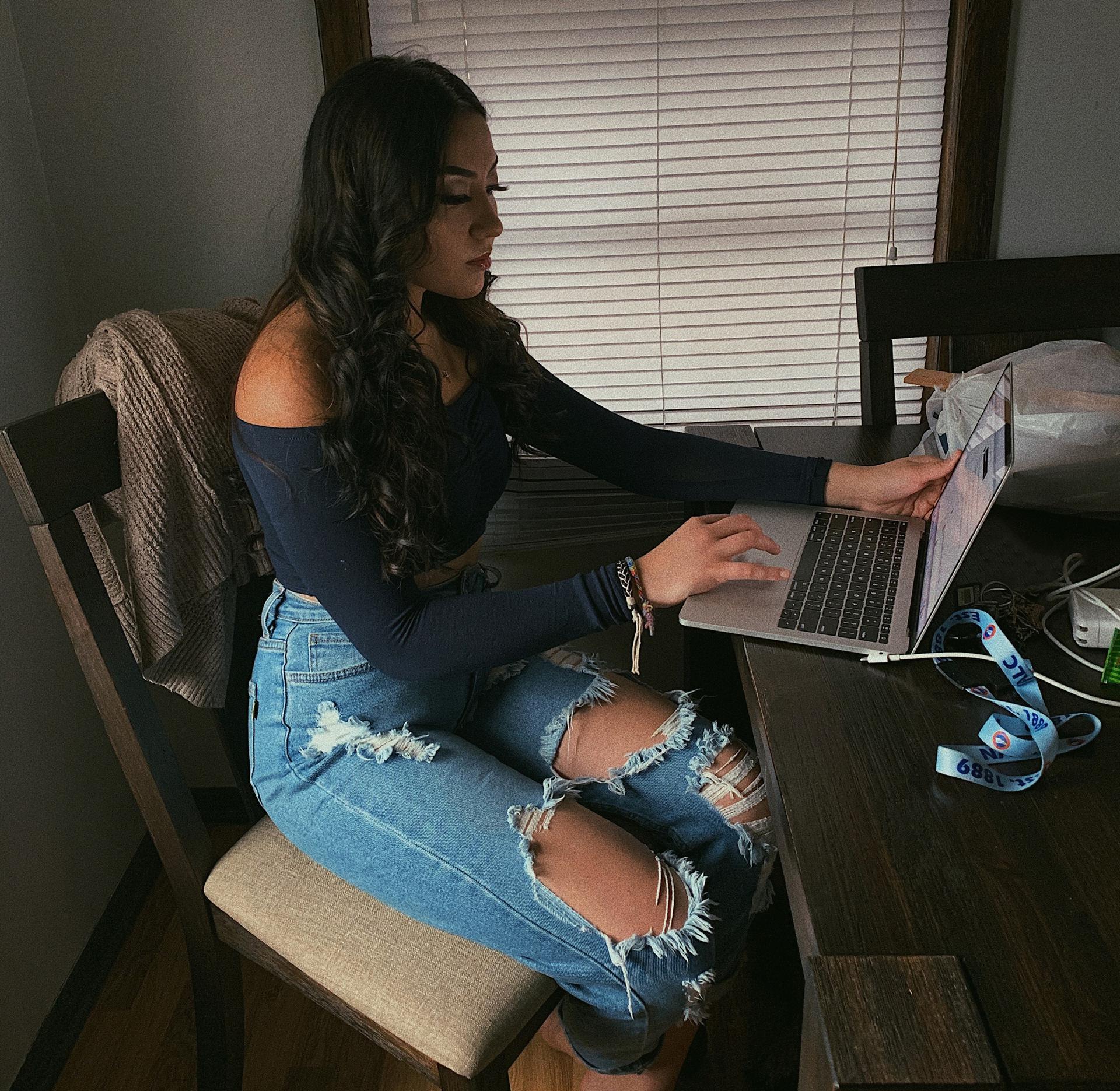 As part of an assignment for Fridley High School teacher Daren Dressler's Diploma Programme (DP) Language and Literature class, 12th grade students were prompted to write a poem or paragraph about something beautiful in the world.


According to Dressler, he chose to assign this prompt to encourage students to focus on positivity. "I found this assignment to be uplifting and cathartic for our students to make sense of the world a little bit," said Dressler. "I was very impressed with all my students. They are so insightful." The following paragraphs and poems are being shared with permission.
"Go for a walk outside, or just think of something beautiful in the world. Write a paragraph or poem about something beautiful in the world."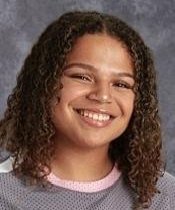 "Birds. Through this weird rough time where humans are not supposed to do what comes naturally, it is refreshing to still see and hear life. Taking a walk outside there isn't much action going on. Whenever I would leave for school the construction site across the street from my house would be live and busy. The only thing I hear now is the tweets from a bird. Multiple birds. Birds who are still living through the pandemic."
Jayden Hollman
"After two days of clouds and rain, the sun is finally out. I can see the clear blue sky. The sun is golden and shining over the tops of houses and through the trees. The weather is warm and welcoming. I finally hear the birds singing. They hug me with their sweet voices as I walk down the sidewalk. For once the world is quiet. Only nature can be heard."
Alexis Thao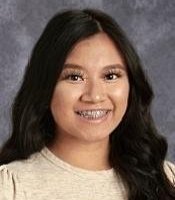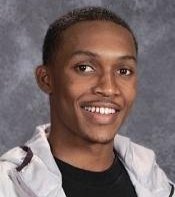 "The most beautiful thing in the world is the sun. The happiness I receive as soon as I step outside, the feeling is unutterable. I think about good memories from playing outside, to the best moments I've had in my life. There's an appreciation you get just from being under the sun."
Bryant Howard
"Something beautiful that we forget to appreciate is nature and the ability to be by ourselves without any chaos around us. These past few weeks it has made me realize that I forget to sit down and just be in the moment of things. Even with everything that is going on and how sad it is to see many countries and ours suffering I think that just being able to be grateful at life and how fortunate we are from others that have been affected. Nature is beautiful and we forget to enjoy the beauty of going outside and to see things go on, we forget that there are other things around us like birds, insects, wind, sun, the clouds moving at their own pace, etc. I think that the beauty is being able to enjoy being with your loved ones or maybe just even enjoy being by yourself!"
Ashley Zamora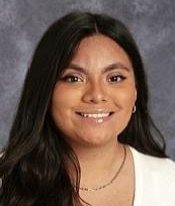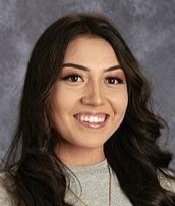 "The fullness of the summer branches are beautiful bright green
The sun shines bright with the summer wind that move with patience and ease
Warm July nights with constant laughter around the bonfire
A sweet-scented place brightened by the light of all the grins and sparkle in their eyes
Will we ever open our minds to the flavor of life
even when the weight of our own collapses on us while trying to survive."
Jennifer Mora
"Something that is beautiful in the world (to me), would be a brand new book. The spine not cracked, the pages never opened, and the excitement that comes from finding the perfect book in pristine condition. The thing that makes a brand new book beautiful, as opposed to a used one, is that there are no earmarked pages. No one has left their impression in the book, so you're allowed to create your own. That would easily be one of the most beautiful things to me in the whole world because you get to discover a new world full of exciting things that can take your mind off of the not so great things that might be going on in real life right now."
Tavian Walker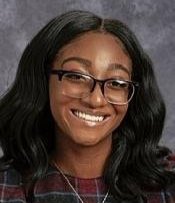 April 2020 Employee of the Month
Congratulations to Fridley Public Schools' April 2020 Employee of the Month, Sarah Burghardt! Ms. Burghardt is a communications specialist in the district office, and is responsible for the publications, website, social media and photography our community enjoys so much. She joined the Communications Department in the fall of 2017, having previously served as a reporter for the Sun Focus newspaper. Click to read more...
» Resources for students & families
Our district's student service support teams have put together a list of resources to help support families during these difficult times. This Resource List is being continuously updated. Click the button to view information that includes: Low cost internet service, meals and groceries, mental health services, and social emotional support.
Fridley Public Schools
6000 West Moore Lake Drive, Fridley, MN 55432
763-502-0000 | www.fridley.k12.mn.us