[Hmong] Nyob zoo, ntawm nov yog Fridley Public Schools. Yog koj xav tau kev pab los txhais cov lus hauv tsab ntawv no, thov hu rau tus xov tooj (612) 430-9858. Chang Vang los Xong Yang yuav pab tau koj.
[Soomaalida] Waalidiinta waan idin salaamnay waa xiriir ka socda Fridley Public Schools haddii aad jeceshihiin in la idiin tarjumo fadlan soo wac numberkaan. Yusuf Mohamud 612-440-7370 or Nura Hussein 484-532-3005

[Español] ¡Saludos! Es una comunicación de las Escuelas Públicas de Fridley (Fridley Public Schools). Si le gustaría apoyo traducir la información, por favor llame Hope Osifuye a (623) 562-0906.
Dear FIRSTNAME LASTNAME,

Today marks the end of the 2019-2020 school year, and what a year it has been! It has been an honor to provide communications to our school community during the school closure through this special publication. We thank our families, students, staff who have showed their true Tiger Grit and successfully completed another school year. We know it was not easy but through hard work and perseverance, we did it! This will be the final edition of the Stay Connected e-newsletter series. We wish all our students, families and staff a wonderful summer break. Be safe and stay healthy. We look forward to welcoming our students back to school in the fall!

Families, staff and community members celebrated and cheered on our Fridley High School graduates last Saturday at the Class of 2020 Parade! Thank you to the "Senior All Night Party" Committee for organizing this event for our seniors!


We are so proud of Entesar Adem, a recent Fridley High School Class of 2020 alumna. As a first-generation immigrant in her family, Entesar entered Fridley schools at a young age and spoke no English. Throughout her years, she has worked above and beyond to live up to her fullest potential. This June, she graduated with highest honors distinction and as a proud member of the Minnesota Honor Society. Entesar set the highest goals for herself - and through hard work and determination, she has proudly achieved those accomplishments. She is one of our region's senior graduates of distinction, featured in the ABC Newspapers Class of 2020 special edition.


Five of our Fridley High School graduates were highlighted in "The Life" ABC Newspapers Class of 2020 special edition. From left to right, Ruwayda Bashir, Islam Ibrahim, Connor McCoy, Colee Nolen and Baobai Xiong. Click here to read about our graduates!
Congratulations to our Fridley Middle School 8th graders! Graduating from Fridley Middle School to transition into high school is an incredible accomplishment - we are so proud of each and every one of you!

Click here to view the 8th Grade Graduation Ceremony, which features a slide show and shout outs from middle school teachers and staff!
FMS Builders Club work highlighted by MN Board of Water & Soil Resources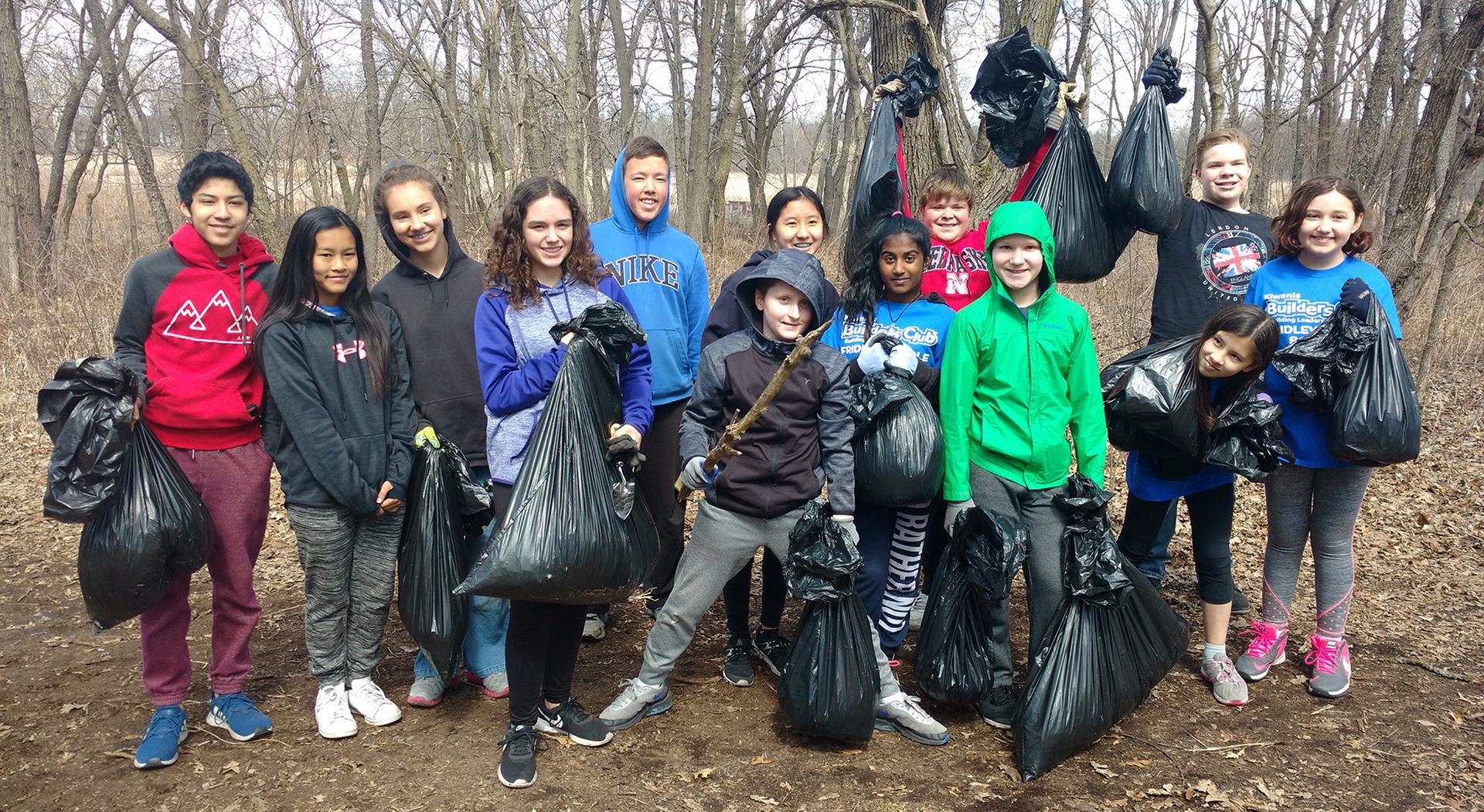 Our Fridley Middle School Builders Club (pictured above in 2018) is committed to serving the community! The Minnesota Board of Water and Soil Resources recently shared a story in their Board of Water and Soil Resources June 2020 Publication. Recognized for a service project undertaken in 2018, FMS Builders Club members volunteered to pull the invasive species, garlic mustard, at Springbrook Nature Center. This was in assistance to the Anoka Soil & Water Conservation District, which relies on volunteers to map, monitor and manage invasive weeds!
The Builders Club is a student-led service organization for our middle schoolers, teaching leadership skills and the importance of community service! Our students volunteered during the first round of the Anoka Cooperative Weed Management Area grant.
FHS Key Club makes an impact with service projects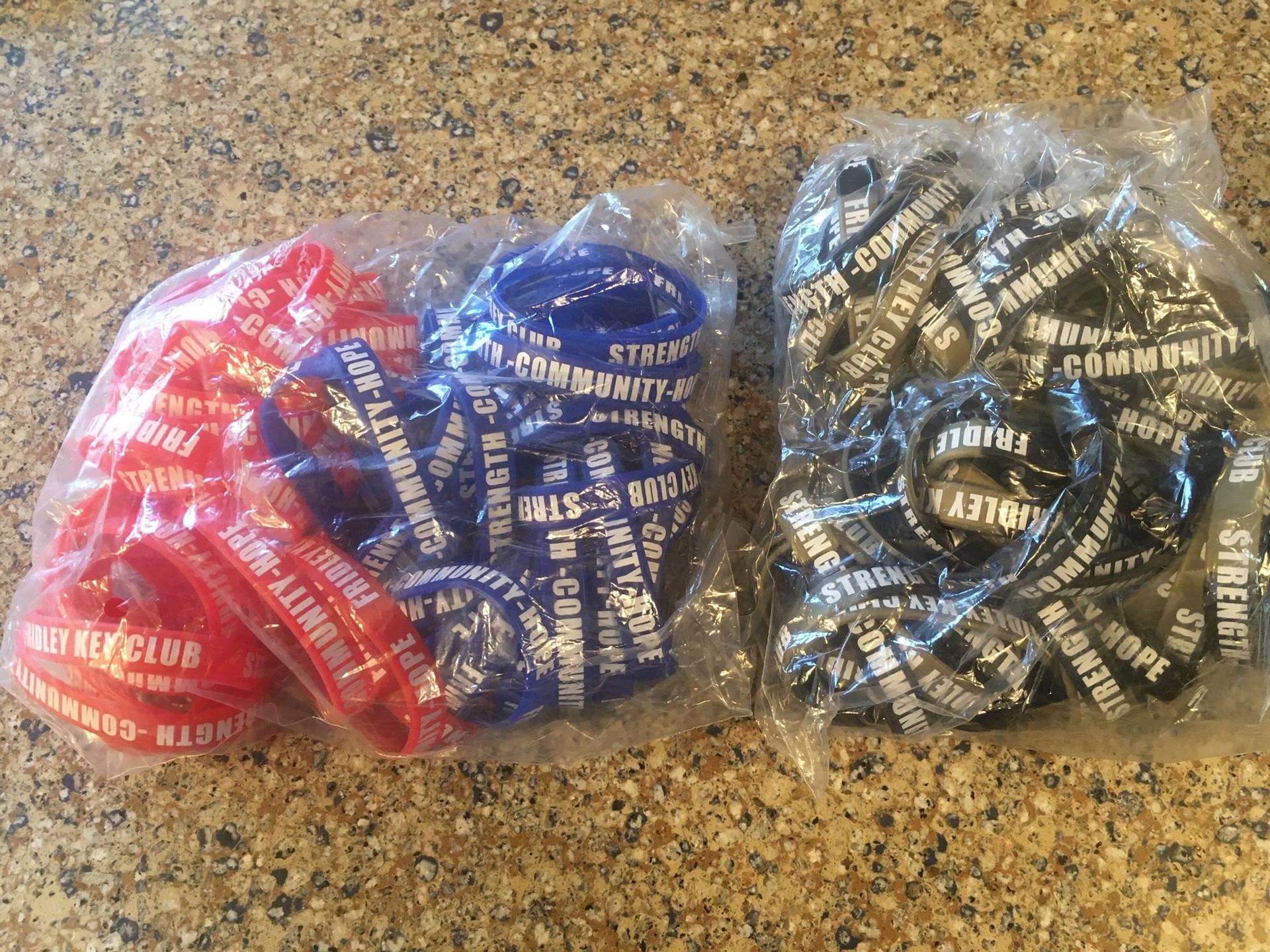 Great work to the Fridley High School Key Club, who have stayed busy with kind acts of community service throughout this school closure! Fridley Key Club Board Members created projects to serve the community, which included volunteering to decorate hundreds of bags for Meals on Wheels, as well as writing appreciation notes and gifting bracelets to local emergency workers. Great work, Fridley Key Club!

Fridley Public Schools would like to thank you for continuing to support your children's education at home during this challenging time. We know education is an important value to you and your family and we wanted to take a moment to thank you for your steadfast commitment to the education and success of your child. We see you, we value you, and we are here to support you through this journey. If you have any questions, need assistance or support, please call your child's school.
(Español) Las Escuelas Públicas de Fridley (Fridley Public Schools) desean agradecerle por siguiendo apoyar la educación de su hijo/a en casa durante este tiempo difícil. Sabemos que educación es un valor importante para usted y su familia y queríamos tomarnos un momento agradecerle por su firme compromiso a la educación y el éxito de su hijo/a. Le vemos, le valoramos, y estamos aquí ayudarle a través de este viaje. Si tiene alguna pregunta, necesita ayuda o apoyo, por favor llame Hope Osifuye a (623) 562-0906 o por correo electrónico a hope.osifuye@fridley.k12.mn.us
(Hmong) Fridley cov tsev kawm ntawv thov ua nej cov niam cov txiv tsaug uas nej tseem niaj hnub txhawb nqa nej cov me nyuam txoj kev kawm ntawv tom tsev thaum lub sib hawm no. Peb ntseeg hais tias txoj kev kawm ntawv tseem ceeb rau koj thiab koj tsev neeg heev. Peb thiaj li thov muab lub sib hawm no lo ua nej tsaug. Peb pom thiab saib nej txoj kev ntxhawb nqa muaj nuj nqis heev thiab peb yuav pab txhawb nqa nej lub sib hawm no thiab. Yog koj muaj lus nug los sis xav tau kev pab, thov hu rau tus xov tooj (612) 430-9858.
(Somali) Iskuulada bulshada ee Fridley wuxuu jeclaystay inuu idiinkaga mahadceliyo caawintii joogtada ahayd ee aad ugu sii wadeen waxbarashada caruuriina guriga xiligan adag. Waan ognahay waxbarashadu inay qiimo idiin leedahay adinka iyo qoyskiina waxaana idinkaga mahadcelinaynaa garab istaaga hagar la'aaneed ee waxbarashada iyo horumarka caruurtiina. Waan idiin jeednaa, waan idin qiimeynaa, halkaan waxaan ujoognaa caawintiina wada socodkaan. Hadaad su'aalo qabtaan, caawinaad ama garab istaag fadlan nasoo wac: Yusuf.mohamud@Fridley.k12.mn.us 612-440-7370/ Nura.hussein@fridley.k12.mn.us 484-532-3005.
Nutritional Services • SUMMER MEALS INFORMATION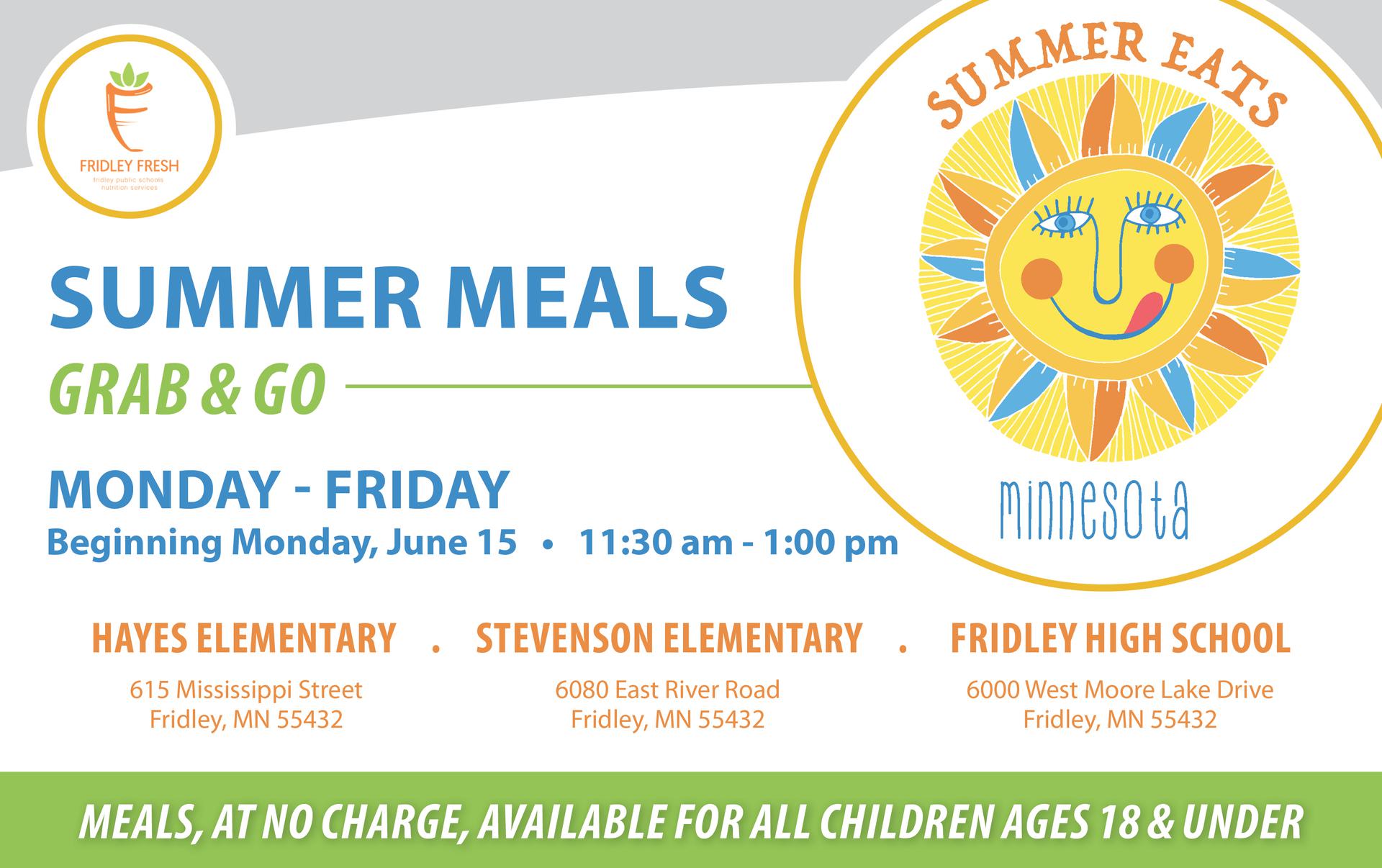 Beginning June 15: Curbside meals will be served at Stevenson Elementary, Hayes, and Fridley High School from 11:30 AM - 1:00 PM Monday-Friday.

Please pick up your meal from the Stevenson or Hayes main entrance or outside of door 15 at Fridley High School. There is no charge for meals and any child age 1-18 years old can have a meal. Parents can pick up a meals for their child/ren.

We will be serving lunch and breakfast just like we are now with meal items individually packaged. There will be daily choices of a hot or cold entrée. All meals will include a fruit, vegetable, milk and grains. Meals will not be consumed on site, so please pick up a meal and take it with you. We look forward to serving our community and seeing your children during the summer.

Please check out our Facebook page for the weekly menus. Do you have questions? Please contact Renee Arbogast, Director of Nutritional Services, at 763-502-5022.

Pandemic Electronic Benefit Transfer - A Resource For Families
Pandemic Electronic Benefit Transfer (P-EBT) is a temporary food benefit available to Minnesota families with children who would have received free or reduced-price meals if schools were open. Families with eligible children will receive a one-time payment of $325 per child on a new or existing EBT card to help fill the gap created by a loss of school meals. The U.S. Department of Agriculture (USDA) has authorized the Minnesota Department of Human Services, the Minnesota Department of Education and Code for America to operate the program.
Who is eligible for P-EBT?


Families with children ages 5-18 as of Sept. 1, 2019, are eligible for P-EBT benefits if:
Their child's school is closed due to COVID-19; and

They were receiving Supplemental Nutrition Assistance Program (SNAP) or Minnesota Family Investment Program (MFIP) benefits as of March 18, 2020; or

Their child was receiving free or reduced-price school meals during the 2019-2020 school year; or

Their child is enrolled in a school that offers free school meals to all students.
How will I get P-EBT?

Families with eligible children ages 5-18 who were receiving SNAP and/or MFIP as of March 18 do not need to apply. A one-time payment will be automatically issued to their household's current Minnesota EBT card on May 30, 2020.
Families who received free or reduced-price school meals in the 2019-2020 school year or attended a school that offers free school meals to all students – but who were not receiving SNAP or MFIP benefits as of March 18 – must complete an online application at mn.p-ebt.org between June 8, 2020, and June 30, 2020. Eligible families will receive a Minnesota P-EBT card in the mail within ten days with instructions to activate the card. This card provides access to P-EBT funds.
» Resources for students & families
Our district's student service support teams have put together a list of resources to help support families during these difficult times. This Resource List is being continuously updated. Click the button to view information that includes: Low cost internet service, meals and groceries, mental health services, and social emotional support.
Fridley Public Schools
6000 West Moore Lake Drive, Fridley, MN 55432
763-502-0000 | www.fridley.k12.mn.us